Our top 10 favourite books!
These are our top ten favourite books that we've read over the years. Every one of these books is special, so we hope you find a new favourite to enjoy. In no particular order…
(and the rest of the trilogy)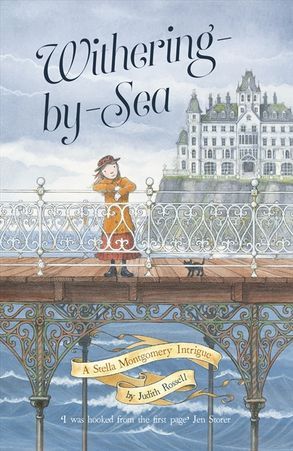 "In Victorian England, Stella Montgomery lives with her three dreadful Aunts at the Hotel Majestic. One day, she sees something she shouldn't have, and is plunged into an adventure. Can she overcome the sinister magician and his gang of thugs, a hand-of-glory, a clockwork beetle,  a military pudding, mutton-in-aspic and an enormous, ghostly sea monster, to find her way home?"
(The first book in the 'Ateban Cipher' series)
"Gabe stared in horror at the small book in his hand. The light from the low fire danced across its golden cover, setting off a shower of sparkles from the rainbow of jewels that adorned it. Its beauty was dulled only in one corner, stained by a dark, spreading smudge of blood.What's the secret of the book, and why is it so valuable? These are the questions Gabe must answer when a dying man hands him a coded manuscript with one instruction: take it to Aidan. Gabe is hurled into a quest that takes him beyond his monastery home and into a world of danger, intrigue, adventure and unexpected friendship – a quest that will challenge everything he thought he knew about right and wrong."
(This one also has a sequel)
"Stargirl. From the day she arrives at quiet Mica High in a burst of colour and sound, the hallways hum with the murmur of "Stargirl, Stargirl." She captures Leo Borlock's heart with just one smile. She sparks a school-spirit revolution with just one cheer. The students of Mica High are enchanted. At first. Then they turn on her. Stargirl is suddenly shunned for everything that makes her different, and Leo, panicked and desperate with love, urges her to become the very thing that can destroy her: normal."
"The unforgettable and life-affirming story of August Pullman – a boy who's desperate to blend in, but is destined to stand out.'My name is August. I won't describe what I look like. Whatever you're thinking, it's probably worse.'Auggie wants to be an ordinary ten-year-old. He does ordinary things – eating ice cream, playing on his Xbox. He feels ordinary – inside. But ordinary kids don't make other ordinary kids run away screaming in playgrounds. Ordinary kids aren't stared at wherever they go.
Born with a terrible facial abnormality, Auggie has been home-schooled by his parents his whole life. Now, for the first time, he's being sent to a real school. All he wants is to be accepted. But can he convince his new classmates that he's just like them, underneath it all?"
(The original book is called 'Simon Vs The Homo Sapiens Agenda')
"Sixteen-year-old and not-so-openly gay Simon Spier prefers to save his drama for the school musical. But when an email falls into the wrong hands, his secret is at risk of being thrust into the spotlight. Now change-averse Simon has to find a way to step out of his comfort zone before he's pushed out—without alienating his friends, compromising himself, or fumbling a shot at happiness with the most confusing, adorable guy he's never met."
(and the rest of the series)
A collection of all 6 books in the super-awesome Ruby Redfort series!"Hey, buster! Normal life is a total yawn. So break out boredom with multi-million-copy bestselling author Lauren Child, and meet your new favourite heroine… Ruby Redfort: detective, secret agent, thirteen-year-old kid.Here's the low-down on Ruby Redfort: she's a genius code-cracker, a daring detective, and a gadget-laden special agent. She and her slick side-kick butler, Hitch, foil crimes and get into loads of scrapes with evil villains, but they're always ice-cool in a crisis."
(and the rest of the trilogy)
"Young runaway Callie survived the disease, but not the so-called treatment. Her brother Kai is still looking for her. And his new friend Shay may hold the key to uncovering what truly happened. From the author of the international sensation Slated comes the first book in a powerful new story of survival and transformation; love and power."
(and the rest of the series)
"On the night Malcolm and Maud Angel are murdered, Tandy Angel knows just three things: 1) She was the last person to see her parents alive. 2) The police have no suspects besides Tandy and her three siblings. 3) She can't trust anyone-maybe not even herself.As Tandy sets out to clear the family name, she begins to recall flashes of experiences long buried in her vulnerable psyche. These memories shed light on her family's dark secrets, and digging deeper into her powerful parents' affairs proves to be a disturbing and dangerous game. Who knows what any of the Angels are truly capable of?" Read the reviews on Good Reads. 
"The shadow girl never imagined she'd live on the streets. After her parents disappear, life with her aunt and uncle takes a sinister turn. Terrified that the authorities will believe her uncle over her, she flees. She tricks her way into a new school and pretends to have a loving family. No one knows she sleeps in rail yards, sand dunes and abandoned houses. At school she meets the author she will call on years later. Together they piece together the story of how she survived, who helped her, and the friend she wishes she could have saved."
"Dear Best Friend,I can already tell that I will hate everyone but you.
Sincerely,
Ava Helmer
(that brunette who won't leave you alone)
We're still in the same room, you weirdo.
Stop crying.
G
So begins a series of texts and emails sent between two best friends, Ava and Gen, as they head off to their first semesters of college on opposite sides of the country. From first loves to weird roommates, heartbreak, self-discovery, coming out and mental health, the two of them document every wild and awkward moment to each other. But as each changes and grows into her new life, will their friendship be able to survive the distance?"
What's your favourite book? What kind of books do you enjoy reading in general?